Empleado

is Human Resource Management
Automating your employees & organization!
Empleado - HR Management System
Considering the hectic manual work of HR dept, we analyzed various industries that includes heath, factories, education etc & developed awesome powerful modules to help you automate things around!

With empleado you never need to record IN/OUT time manually or reconciliation salaries, late comings, overtimes for hundreds of employees!
Giving few clicks to your mouse will return you everything sorted & Ready!

Empleado is completely a cloud based system which can be accessed from anywhere at any device.
Being a cloud based you never need to worry about your data loss!
Web Based Interface
Empleado have extremely easy & user-friendly management interface,
Being a web based system, its accessible from home/office - anywhere on Laptop, Tablet or even on Mobile!
Where there is no need for installation of any sort of Software/Hardware to use it.

Empleado quick dashboard gives you an overall idea about your Employees performance in single glimpse!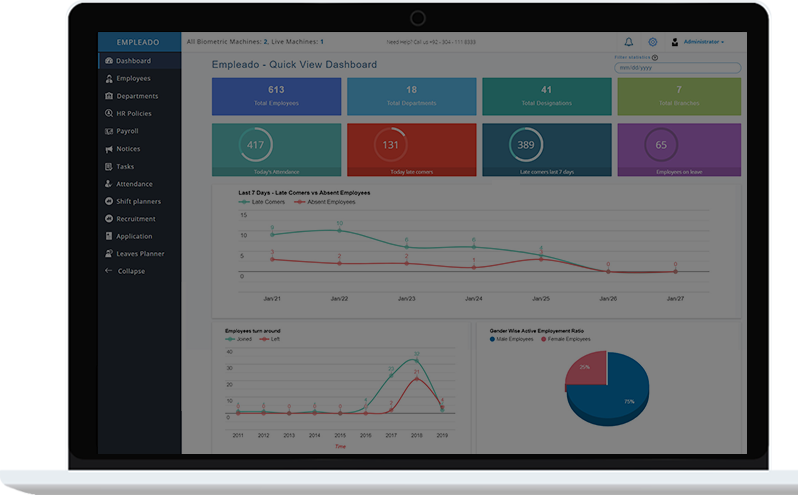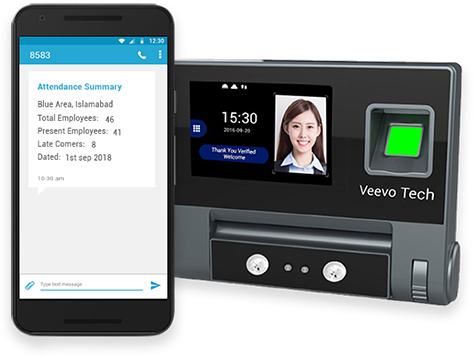 Empleado have its own wireless Biometric based machines which includes both face detectors as well finger scanners for authentic & automatic attendance.

If you are a boss, we understand your hectic routine - Empleado offers you complete summary for your each office branch via SMS daily!
Not just summary, you can also post any new notices, tasks to employees via SMS.
Employee's Dashboard
Empleado not just automate your HR Managers but at the same time digitizing your employees as well,

every employee get his own dashboard to access his attendance, register applications for loans, leaves, time change requests etc.
Manage his assigned tasks & a lot more...!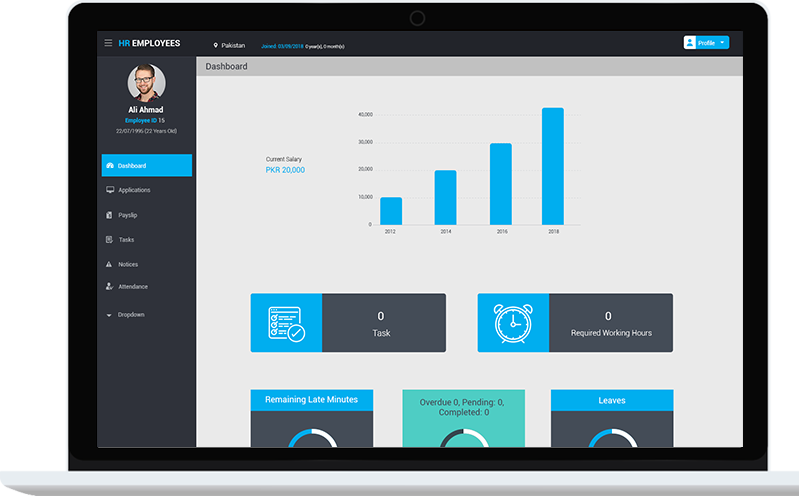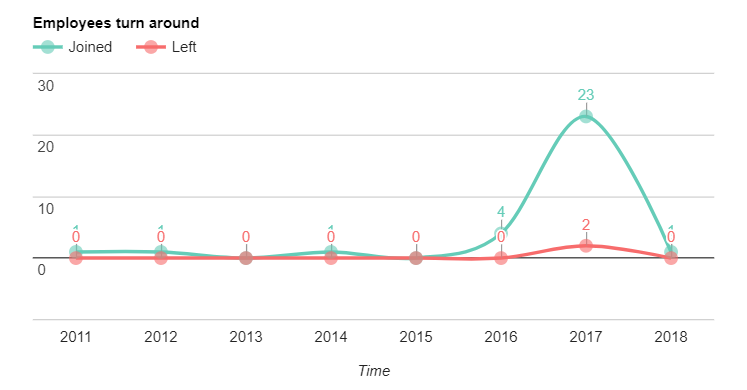 Stunning Graphical Reports
You need not to worry or go through hundreds of paper to get insights about your organization HR.
Empleado presents you a number of complex reports using awesome charts to help you get a quicker idea in a number of clicks.
Manage Attendance Over Calender
Returning ease in management is top most priority of Empleado, it let you view & manage Employee attendance in such a simple way over a calendar.
Just by clicking on any day on calendar, you can mark the Employee present, absent or adjust In/Out timing manually.
The red dots on some days represents that Employee has not completed his working hours,

Except this you get wide range of reporting options along with exporting to excel sheets whether departments wise, branch wise etc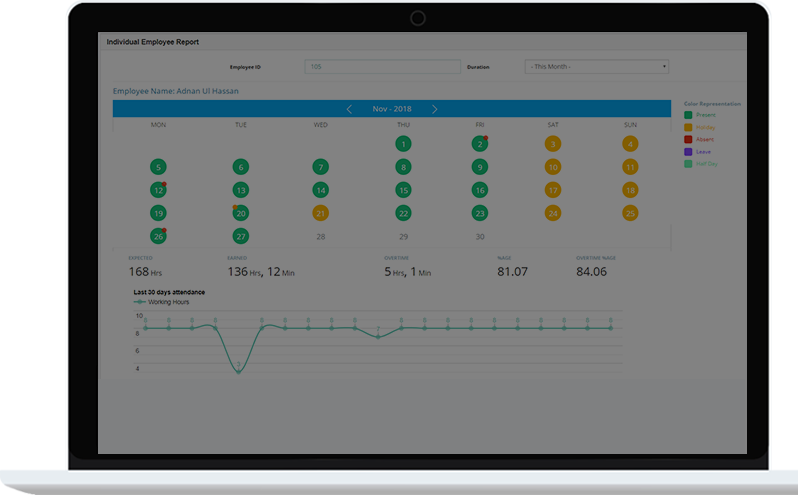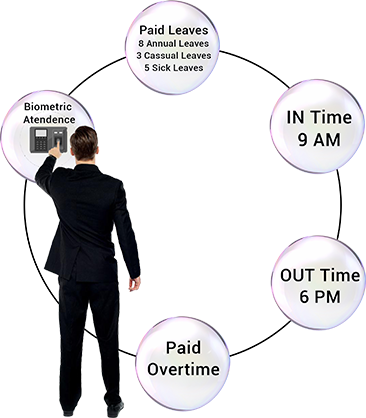 Define Your Own HR Policies
The claims are true, Yes - Empleado helps you automate calculations from your Attendance towards payroll with your own defined set of rules.
Define as many HR policies and assign them to different level of Employees i-e Security Staff, Production Team etc

HR Policies have range of options to implement and automate your office routine from late minutes definition towards late minutes penalties.
Advance Employee Profiling
Empleado empowers your record keeping channel, helping you create digital profiles of your Employees to access conveniently from any location across your branches.

It helps you store and categories information from Personal towards the assets provided to Employee by the Company, Upload documents, Maintain employment status i-e Probation Period, Contract, Daily Wages etc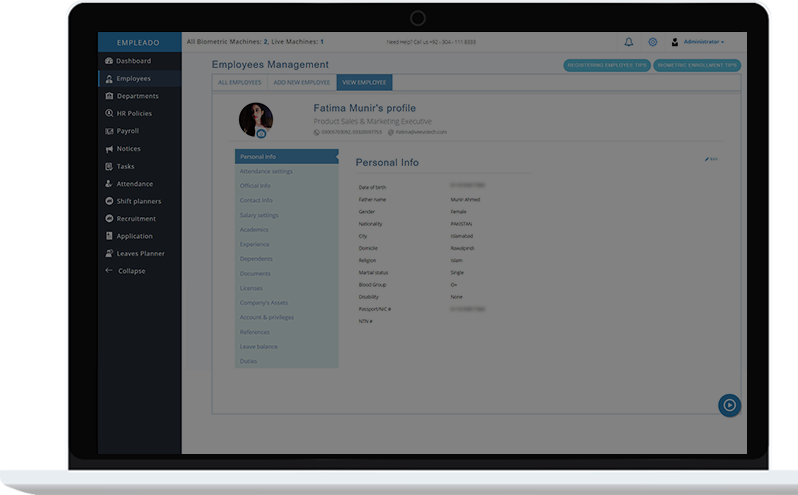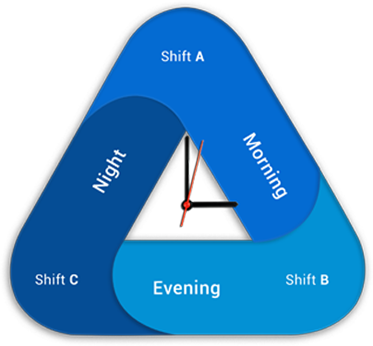 Empleado have powerful industries standard Shifts Management Module for 24/7 duty staff.

It eliminates the need for drafting manual roasters, shifts, holidays, shifts time changing, rather it keeps on changing shifts timing automatically or manually in easy drag & drop way.

Shift Management is designed for Production industries to help them maintain complex operations in a paperless environment.
Payroll at Fewer Clicks
Empleado is committed towards automation, it takes the defined HR policies onboard to calculate the working time prior to generate payroll.

It offers flexibility for managing salary increments, deductions, allowances and much more, the payroll is generated within seconds for hundreds of employees.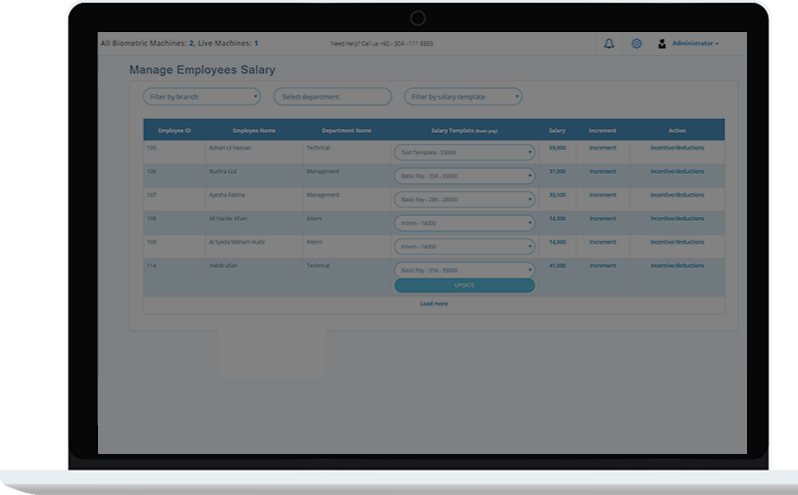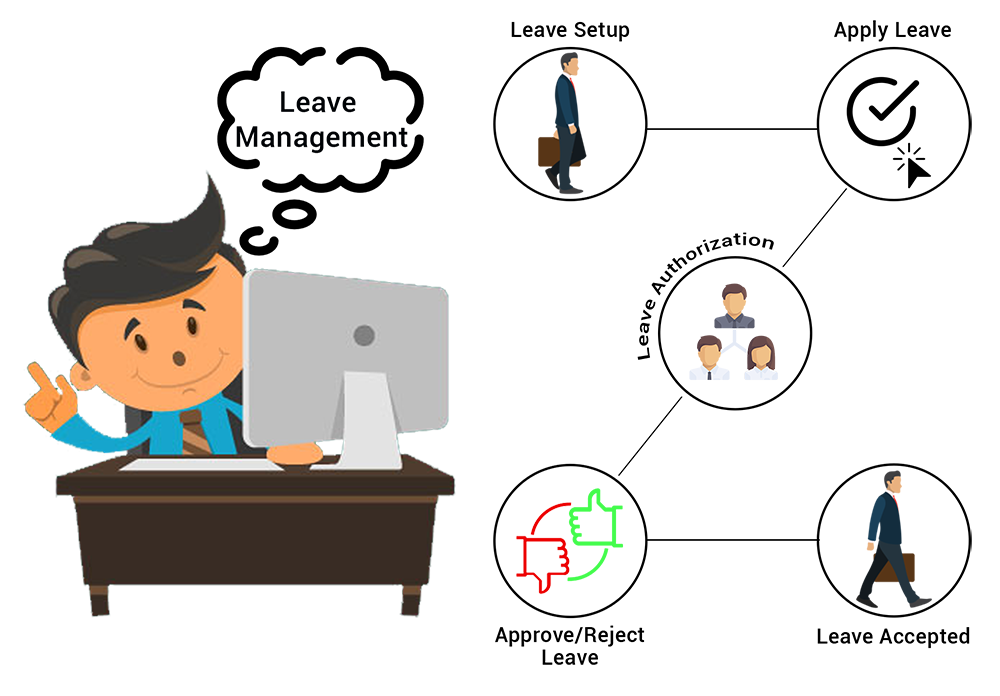 Go paperless with your applications, the digitization in businesses should return one good cause and that is saving paper, saving trees!

Process employees applications for Loans, TA/DA, Leaves & more in a not much different way than usual, forward it from manager to manager take approvals and process it towards finalization.

Submitting application is easier using Employee's Mobile App/Web Portals or the administrator can also float application on behalf of an Employee!
Empleado Mobile App
With the new and improved Empleado application,
your employees are a slick away from getting insights
about their attendance, increments, notices and much more.

The employee portal makes use of modern solutions
through which you can forget about piles of documents.

Empower your work force to manage their assigned tasks on the go, boosting efficiency!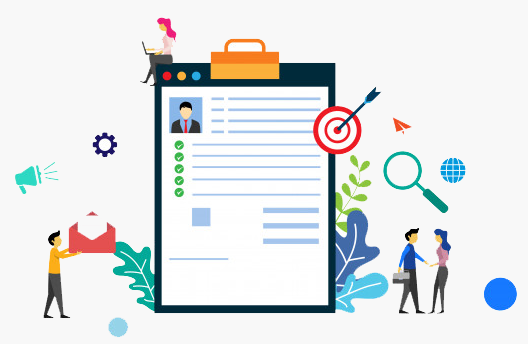 With Empleado's Recruitment module recruiting new inductees has never been so easy before,
let candidates apply online on portal with CV and other attached,

You can easily schedule interviews from thousands of candidates with improved categorization, sending schedule notification via SMS,
Maintain your own categorized talent pool to avoid future job advertisements,
Or keep a record with entering reviews for every candidate
without the use of getting yourself in the hassle of maintaining
documents for each and every appeared candidate.
And More...
---

Biometric Based Attendance

Empleado is powered by Biometric based hardware to mark automated and authentic attendance of employees using FingerPrint or Face Recognition machines.

Web Based Interface

Empleado is extremely easy & user friendly, there is no need for installation of softwares on specific PCs or maintaining specific computers, servers for this - it's completely web based system, accessible from anywhere.

Branch Extension

Empleado is designed with centralization idea to post back the whole reporting on one platform for easy management and reporting across all your branches.

Employees Database

Empleado digitize your employees record, add your employees overall data on Empleado online along with all relevant documentation, photo etc. Maintain complete profile of your employees.

Define HR Policies

Empleado is extremely customizable & is designed to fit into every environment.
Define your own working policies and assign to different group of employees, the system will automatically treat employees against assigned policies and will generate their pay slips accordingly.

Payroll Management

Empleado have built-in Payroll Management System, which automates your payroll generation, including pay slips, paid/due indications, advance salary management, incentives management and a lot more options.
Salary templates management, create & assign salary templates to your employees according to their designations.

Departments / Designations

Empleado empowers you to easily categorize your employees like you do in real world, create departments & inside departments create designations.

Online Task Management

Increase your productivity by over 50% with Empleado online Task Management & monitoring module, assign tasks to your employees easily, instantly online on the system & let them post the progress back on the system.
Forget managing manual to-do-lists, reminders, no more delays in tasks.

Leave Management

Say Good bye to your ordinary paper based leave applications management, with Empleado employees can send leave applications online to HR manager or HR Manager can create application on behalf of employees.

Notice Management

Compose and send Notices regarding any new happenings to employees via SMS & Online Interface.
Send right information to right group of people, defining Branch, Department name with your notices.

Access Level

Empleado is designed with enhanced security, there are three levels of account access.
Super Administrator - managing everything. Branch Administrator - Access to specific branch management.
Employee Account - Customized portal for employees to evaluate their attendance, view tasks assigned, view notices etc.

Data Safety

Data is safety is the core aim of Empleado, you need not to worry about backups, data lost, virus attacks, hardware failure, we manage your records at our local datacenter ensuring 24/7 availability.
We will even manage disaster recoveries for you in-case you have lost your biometric machines, the system along with old data will be restored safely on new machine.
Pricing Plans
---
Please choose a Package below or Let's Negotiate your customized Requirements.
VT have it's own branded Biometric Machines for Empleado
---
Device Model
VTB - 103
Description
Finger Scanner Machine
Features
4 inches TFT Screen
Fingerprint & Password verification,
Wifi & LAN Based Connectivity,
3000 Fingers Capacity (optional 10K,50K,100K),
RFID Card (Optional),
100,000 Log capacity,
Can add up to 10 fingers of same user
Verification Speed less than 0.8 seconds
Acceptable angle 360 Degree,
Verification mode 1:1,1:N,
Scratch-proof Optical Finger print Sensor
3 Hours Built-in Backup Battery
Power Supply 5V - 1A
Device Model
VTB - 203
Description
Finger Scanner + face recognition Machine
Features
4.3inch Touch Screen,
LAN & Wifi Based Connectivity,
10,000 Finger Templates capacity,
1000 Faces Capacity (Optional 2000, 5000 Available),
Palm Verification (Optional),
RFID Card (Optional),
200,000 Log capacity,
Image Capturing Distance 30-80cm
Verification Speed less than second
Ambient light 0-50000Lux
Access Control Functionalities
Power Supply 5V - 2A,
Can also be integrated with 3rd party electric lock, door sensor, and exit button.
We love to talk, reach us